Our exclusive
No-Pressure Roof Cleaning
can remove years of dark algae buildup and stains from your roof shingles for a mere fraction of the cost of replacement! Plus, our soft wash process is safe and effective and poses no risk of damage to your roof deck, home exterior, or landscaping.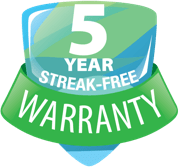 All of our roof cleaning treatments are backed by a 5 Year Streak-Free Guarantee. If the black streaks return within 60 months from the date of service, your roof will be cleaned and treated at no cost to you. No yearly maintenance, no headaches, that's our promise. Get that dirty roof cleaned!

Algae — Black streaks or staining on roof. It's Also called "Blue-Green Algae" (Cyanobacteria) and "Gloeocapsa Magma." Looks terrible, feeds off your shingles and leads to moss/lichen growth and roof damage.
Fungus— Commonly know as mold & mildew: Its green and connected together. Will grow on entire roof area and can cause the shingles to lift, causing potential leaks and interior water damage/mold.
Moss— A green spongy substance that can have scattered growth. Will grow on entire roof area and can cause the shingles to lift, causing potential leaks and interior water damage/mold.
Lichen — A star-shaped burst of yellow, orange and white. Will grow on entire roof area and can cause the shingles to lift, causing potential leaks and interior water damage/mold.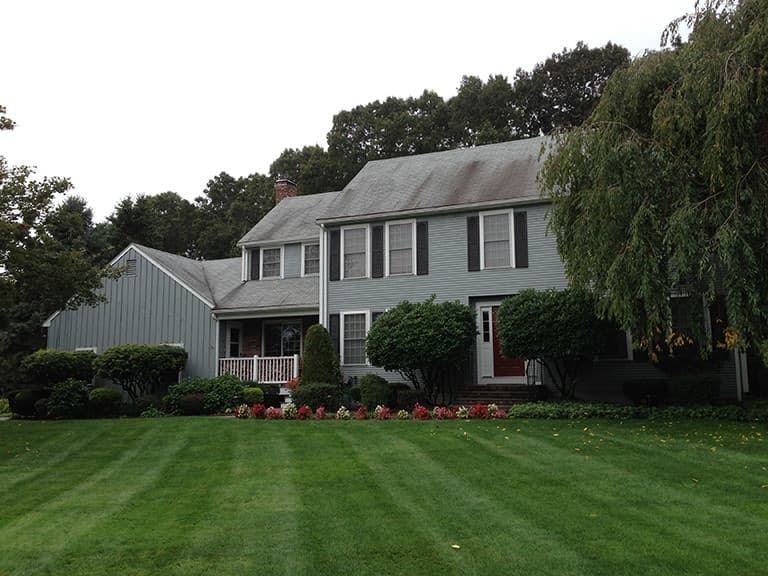 Upon arriving at your home, we will evaluate your roof and perform a thorough assessment of the overall roof condition. Any apparent circumstances we think you should be aware of will be brought to your attention and photographed for your records.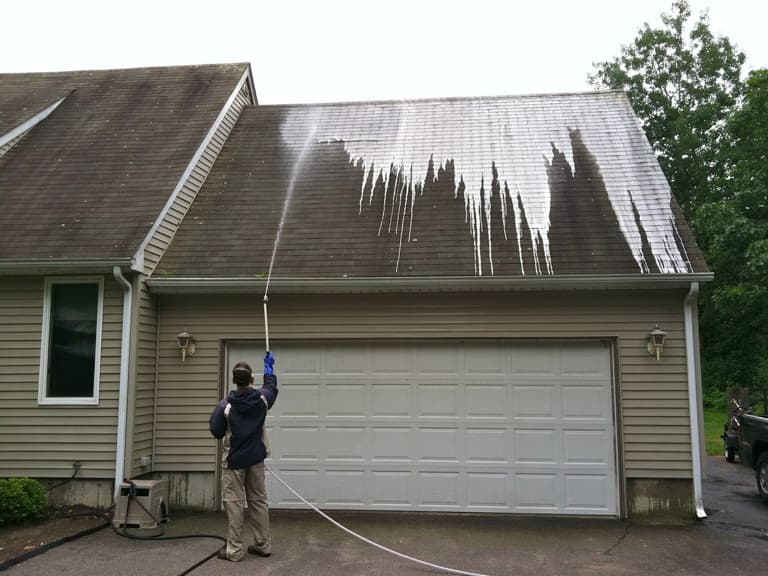 Our treatment has been formulated with our exclusive algaecide & mildew preventative treatment. This ensures all black mold will be eliminated and is the key ingredient required to keeping your roof clean for 60+ months.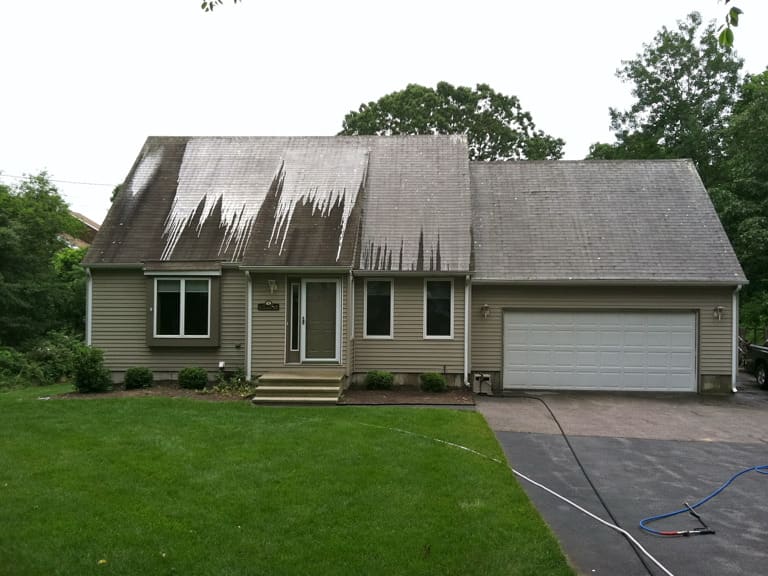 At this time all landscaping surrounding the work area will be wet down with water and gutter downspouts bagged. Next we will then apply the first coat of detergent. The first coat is a spot treatment to the more adversely affected areas; this will allow the detergent to dwell for 10 – 15 minutes prior to the full application.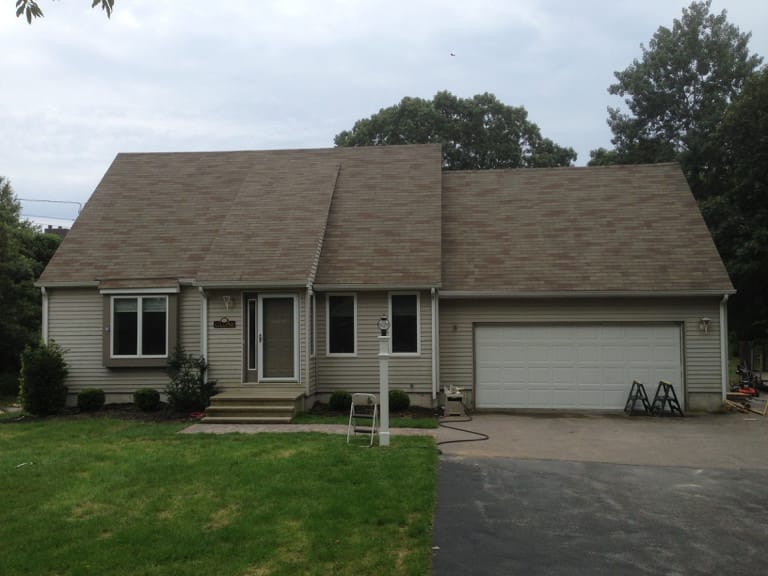 A full application of detergent will then be applied to the complete affected sections of your roof. The treatment will eliminate 100% of all roof mold and algae and restore your roof to like-new condition*. Only complete roof sections will be treated to ensure a uniform end result and to ensure all mold has been killed.
* We guarantee all black streaking will be eliminated the day of your service, BUT, any Moss and/or Lichen growth present will turn white and flake away following the treatment. See the timeline on your quote for details. We DO NOT power wash your roof to remove this type of growth.
How long does it take to see results from a roof cleaning treatment?
Immediately! After the treatment has been applied all black streaks will be gone and your roof will look new. Depending on the color of your shingles you may notice a slight soap like film from the detergents. This film will rinse away with the first rain.
How long will the cleaning results last?
The results typically last 5-7 years depending on the location of your home, tree cover and weather patterns.
Is there a guarantee provided with the roof cleaning service?
Yes, we guarantee the results of all roof cleaning treatments for 5 years from the date of service. If you notice any reappearance of black streaking within 60 months we will re-treat your roof FREE of charge. No gimmicks, no headaches, guaranteed.
Will this treatment remove moss or lichen growth?
Yes, but not immediately. Any physical growth on your roof will turn white upon treatment and dry up and flake off within 1-9 months. Although our treatment is highly safe and effective we are not miracle workers, very heavy moss growth often compromises the shingle and may be cause for roof replacement rather than cleaning. We do not install new roofing.
Get a FREE Roof Cleaning Estimate
Having been in business for over 18 years, we have cleaned 10,500+ roofs in Rhode Island, Eastern Connecticut, and Massachusetts using our exclusive no pressure roof cleaning treatments. Our friendly team is always happy to provide you with upfront advice regarding your roof cleaning project. Contact SpringBrook today for results that will make your neighbors envious.