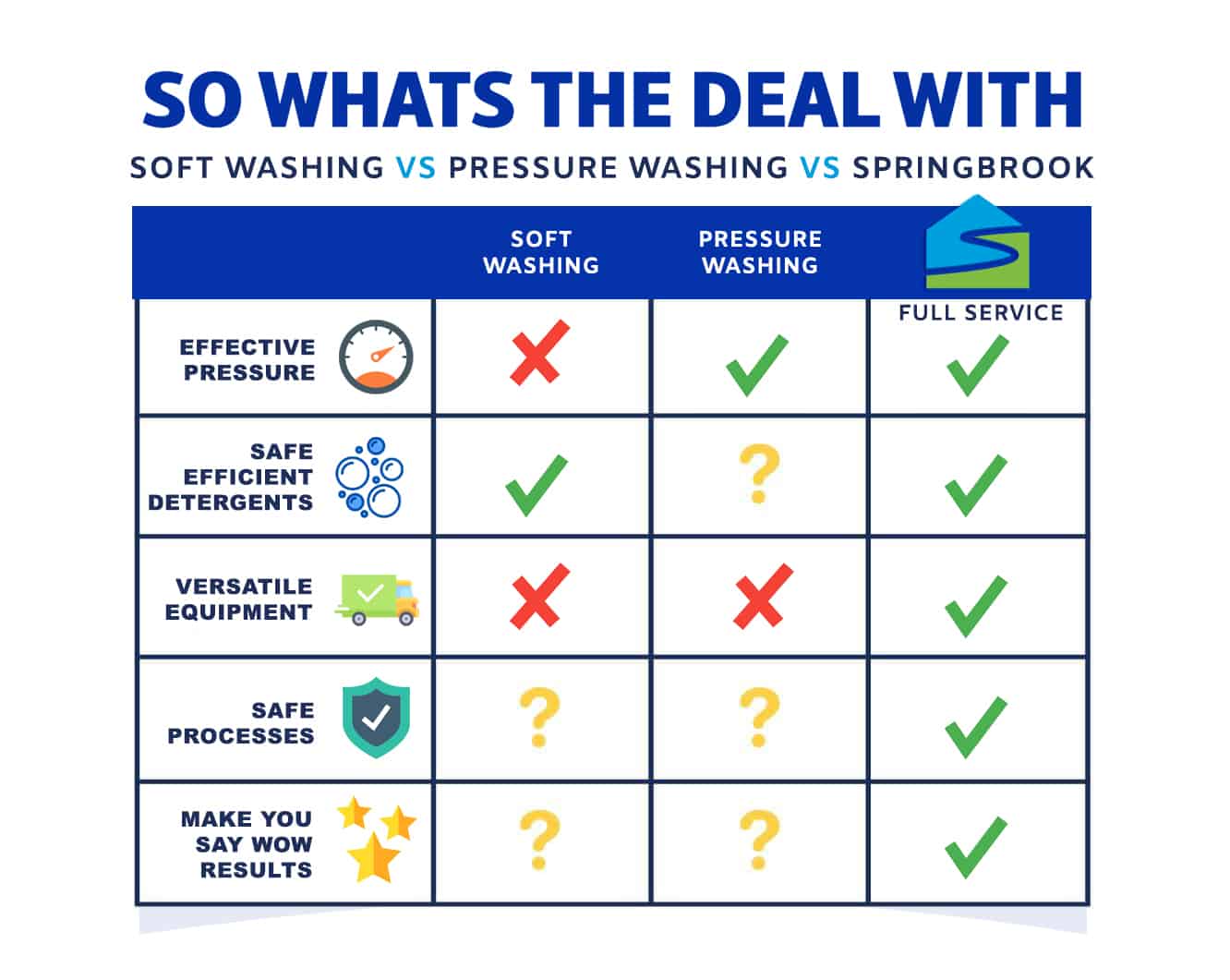 General
What types of payment do you accept? Do you require a deposit?
We accept personal check, credit card or cash. Residential jobs do not require a deposit. Payment is made after the service is complete and you are 100% satisfied.
Do you carry insurance? Are you a registered contractor?
YES, we carry 2 million dollars of liability insurance. We are a registered contractor in Rhode Island. Contractor Registration # 37790 (Connecticut & Massachusetts do not require cleaning contractors to be registered as we do not physically change your structure)
Do I need to be home while services are being performed?
NO, we don't require anyone to be home at the time of service as long as all your windows/doors are closed and water is turned on for the season so we can connect to your outside faucet. After the service is complete we will invoice you for payment.
Do you offer any incentives for referring my friends, family or neighbors?
YES, a great deal of our business comes from referrals. We offer discounts for booking with a neighbor and commissions for referring someone you know to us. Please contact us for details.
Do you offer a military discount?
YES, we offer a 5% discount to Military, Police, EMT or Firemen. We appreciate your service!
House Washing
How often do most people power wash their homes siding?
Depending on location and environmental conditions, most people wash their home every 1-3 years.
Will the power washing remove the black mold from my gutter faces and soffits? What are the vertical black lines on my gutter faces?
YES, when we wash your home we clean all gutter faces and soffits to remove black mold, speckled mold etc. Many times your gutters may have remaining faint vertical lines ("tiger striping") which is caused by mineral deposits bonded to the gutter surface via electrostatic charge. We offer a special gutter whitening treatment to remove this striping for an additional charge.
Will the power washing affect my windows? Will it clean them?
Our detergents are formulated with special water softeners to prevent spotting of windows. Many customers tell us how clean their windows look after the wash is complete but our service is not a replacement for professional window cleaning/squeegee job. We recommend scheduling any window washing for after we have completed your power washing. We will be happy to refer you to local window cleaning companies our customers have worked with over the years with excellent results.
Do I have to remove my window screens?
This is really up to you. The washing will not damage the screens if they are left in and in fact does a nice job removing dust, pollen and mold. Some customers prefer to remove the screens to allow better rinsing of the sills to wash away bugs etc.
Are you able to work if my home has a well? Do you bring water with you?
YES, we work off of wells on a regular basis and have extensive experience with home well water systems and how to properly work with them for best results. We no longer carry our own water. We are happy to answer any questions regarding your well water setup.
Are the detergents you use safe for kids, pets and landscaping?
YES, our detergents are non toxic and safe for your family, pets and landscapes. All landscaping is rinsed down before, during and after the wash as an additional preventative step. We simply do not have issues with any landscaping. We do ask that you remove any small potted plants/flowers from the work area as they are more sensitive than permanent landscaping.
Do you use safe low pressure to clean my vinyl siding, painted siding or composite decking/rails?
YES, our process, also known as soft washing, uses special detergents to soften, release and kill the mold on your siding, trim, screens, windows, composite decking/rails so that it can be washed off safely using low pressure. This technique virtually eliminates the chance of damage or water being blasted behind siding causing additional mold issues. This system also allows us to safely remove mold from painted homes and trim without removing any paint.
Roof Cleaning
Will this treatment remove moss or lichen growth?
Yes, but not immediately. Any physical growth on your roof will turn white upon treatment and dry up and flake off within 1-9 months. Although our treatment is highly safe and effective we are not miracle workers, very heavy moss growth often compromises the shingle and may be cause for roof replacement rather than cleaning. We do not install new roofing.
Is there a guarantee provided with the roof cleaning service?
Yes, we guarantee the results of all roof cleaning treatments for 5 years from the date of service. If you notice any reappearance of black streaking within 60 months we will re-treat your roof FREE of charge. No gimmicks, no headaches, guaranteed.
How long will the cleaning results last?
The results typically last 5-7 years depending on the location of your home, tree cover and weather patterns.
How long does it take to see results from a roof cleaning treatment?
Immediately! After the treatment has been applied all black streaks will be gone and your roof will look new. Depending on the color of your shingles you may notice a slight soap like film from the detergents. This film will rinse away with the first rain.
LET US WASH AWAY YOUR MOLD PROBLEMS
With over 32,000 homes washed, 10,500+ roof treatments, and more than 19 years in business, you can count on our team for upfront, honest advice regarding your project and precise long-lasting results. We CARE about our clients and getting them the right information and services for their home. Join our family of happy clients today.